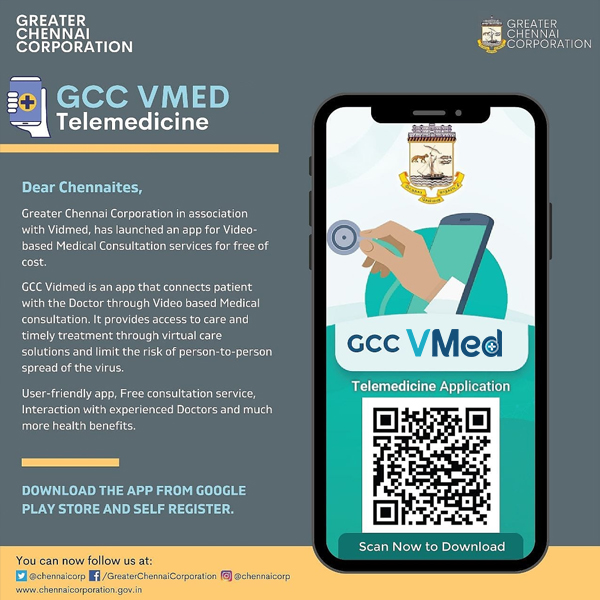 VMed - Services offered to GCC
GCC (Greater Chennai Corporation) is responsible for maintaining roads, streetlights, and flyovers across the city and also the city's cleanliness and Health & Hygiene. ​
Patient can upload the required Documents / past reports / Prescriptions for Doctor's review and doctor upon consultation will issue the plan of care or prescription though the App
The entire TeleMedicine Consultation is recorded as a Electronic Health Record ( EHR) of the patient. ​​ ​
During Covid Pandemic GCC has given Teleconsultations to more than 11000 Patients through VMED. ​
VMed - Services Offered to Vedanta Foundation​
Dhanush in collaboration with Vedanta Foundation as a Health Partner providing Quality primary healthcare services – preventive and diagnostic services – across the states of Odisha,Chhattisgarh,Karnataka & Jharkhand
Covering a large part of community from the beneficiaries of 600 Nand Ghars where each Nand Ghar caters to a population of 1,000 beneficiaries.
To provide healthcare at Nand Ghar (doorstep) for rural communities, leveraging contemporary technology such as ICT and telehealth. Where in Dhanush is a pioneer in providing Telehealth in INDIA.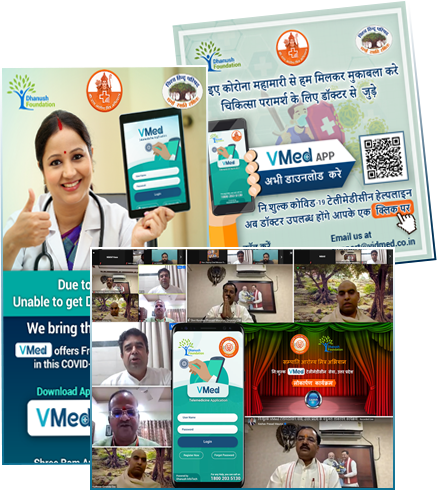 VMed – Services Offered to Shree Ram Arogya Mitra Abhiyan
Shree Ram Arogya Mitra Abhiyan launched in the state of Telangana, Chhattisgarh, Uttar Pradesh (6 Districts) & Haryana.
2500+ Arogya Mitras are trained across the states to actively connect with patients in villages and urban poor
VMed – Services Offered to Sampati Arogya Mitra Abhiyan
Providing Video and Audio based doctors consultation service to citizens to get Health care queries addressed in this pandemic in the state of Uttar Pradesh
Serving the marginalised sections through teleconsultation services (Toll Free Number) who do not have access to smart phones
Helping Government to decrease strain on Health infra and curbing spread of COVID-19 by offering Free Telemedicine consultations to patients at their home